ALL THE GOODIES IN KUCHING, BORNEO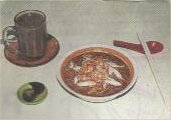 As well as typical Malaysian and Western fare, there is a whole range of local delicacies worth trying. There are lots of coffee shops with food stalls dotted all over the city. You can have mixed rice (a plate of rice with 3 dishes on), Kolo Mee (noodles) - dry or in soap, chicken rice, Chinese foods, Muslim foods, Indian foods, sea foods ......



The specialities
Kuching Laksa (shown above) - a spicy and herbal rice noodles dish laced with beansprouts, chicken and prawns in coconut gravy.
Fried noodles in tomato sauce - a starchy soup cooked with tomato sauce spread over the the fried noodles.
Umei, a spicy salad of raw marinated fish, limes and shallots is the traditional dish of the Native Melanau people.
Midin, a type of cripsy jungle fern, is the most sought after local vegetable dish while eating out in Kuching. When it is cooked with Belachan (a shrimp paste), the aroma is astounding and irresistable.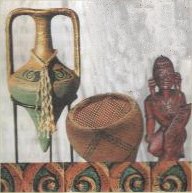 Shopping
There are plenty of Borneo arts and crafts - Iban Pua Kumbu (hand woven rugs), wooden hornbill (Sarawak State Bird) carving, Orang Ulu beadwork, blowpipes, bamboo mats are the most common. To get a value of the bargain, it is best to shop around and get a rough idea before buying. There are also a number of departmental stores, shopping malls and complexes displaying the latest men's and women's fashions, CD's, books etc.
Click on any one to read the previous page or to read more on Kuching
Return to top